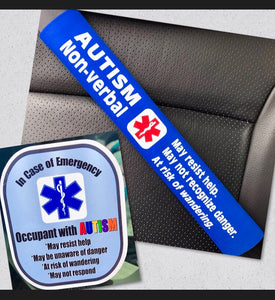 Autism Non-verbal Safety Set
Regular price $27.99 Sale
This 2 piece safety set includes a medical alert seat belt cover and  medical alert window decal.
The durable, waterproof,  and washable seatbelt cover is extra long for more medical alert visibility and keeps your seatbelt clean and protected from spills. Quality velcro closure. Sun and fade resistant.  Manufactured with top quality materials in the USA.   Padded for comfort. This cover will last for years.  Approximately 14 x 7 inches when open. Wash on gentle cycle and lay flat to dry.

The durable waterproof and fade resistant decal is perfect for car windows, home windows, or doors. It can alert emergency and medical personnel of important medical information that a loved one might not be able to convey for themselves. It is easy to read and is made in the USA from top quality 3M materials. Prep surface for application by cleaning and drying surface completely. Peel backing and stick onto prepped surface.