Satisfaction Guaranteed!
We only use top quality materials to manufacture our products and we choose to pay our team members a fair wage. We are proud of our products and if you aren't completely satisfied with your order, just contact us at SafetyAwarenessProducts@gmail.com
We rarely have a return, but are happy to process a refund or exchange if you need to return your item. We love HAPPY customers!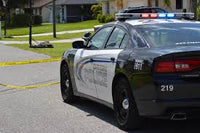 Individuals with Special Needs or certain medical conditions may be unable to communicate in an emergency.
For instance, a person with NON-VERBAL AUTISM may be unable to respond or follow instructions. They may be unaware of the dangers around them, whether it's an interaction with police or at the scene of an accident . A person with ALZHEIMERS might wander away or an individual with a HEARING IMPAIRMENT might not hear an officer's commands at a traffic stop.
Our products help people who might need extra help in an emergency. We create and sell products that help emergency responders keep our loved ones safe. Our products speak for those who may not be able to speak for themselves.